Yara Marine Technologies provides technologies to enable a greener maritime industry. Ever since the beginning in 2010, Yara Marine Technologies has been a frontrunner in the emission reduction technology industry. We developed into one of the world's largest providers of high-quality scrubber systems, with more than 400 systems installed.
Today, we provide a portfolio of green technologies and work as a partner for yards' and ship-owners', to reduce and eliminate ship emissions. Yara Marine Technologies is a fully owned subsidiary of Yara International and we have offices in Sweden, Norway, and China.
Do you want to help us promote a healthy planet for future generations? We are now looking for a Line Manager Process Engineer who will strengthen our engineering team.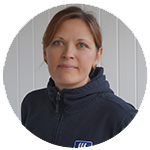 "I have worked in the construction industry as a system designer in heating and ventilation for 7 years in Ukraine. The work in the process department at Yara Marine matched my interest in environmental issues, knowledge of energy, piping, and my love to the sea.
During the years I have worked at Yara Marine, the company has grown and opened new horizons. It is exciting to develop together with the company and be at the front edge of the market with environmental solutions for a better future.
Yara Marine is a stable, and at the same time flexible, company with clear goals, empathic leadership and nice colleagues. We have a positive mood in our team as well as intelligent, engaged and helpful colleagues."
– Katerina Kasian, Piping Engineer
Main responsibilities
As Line Manager for the process design team, you will report directly to the Head of Engineering. You are responsible for a group of 10 process- and piping engineers, where you lead and distribute the work within the group. You will review and ensure the process design from the department. The design work consists of using proven models and simulations to develop detailed hydraulic analyzes and dimensioning of equipment, including ship adaptation and piping systems.
You will also:
Work with managerial tasks such as competence development, resource planning, recruitment, salaries, routines & policies, support & coaching, etc.
Develop standards and guidelines and drive improvement work
Represent the group in other disciplines and work actively with knowledge transfer, improvements and development of the company's products and processes
Be responsible for contact with suppliers where you set requirements, review documents, drawings, data sheets, specifications and calculations
Background and skills
University degree in process engineering and/or chemical engineering
Experience of process design of pipe systems, pumps, chemical dosing systems, sensors/transmitters, and mechanical equipment for process systems
Experience in calculations of pumps and pipes
Proven strong leadership skills with experience of leading a group/team
Fluent in English, writing and speaking
As a person, you are responsive with a good ability to cooperate, engage and motivate others. You are structured and organized in your work to drive and develop the team forward. You are also energetic, analytical and prestigeless in your work to see opportunities and to find solutions.
What we offer
We offer an opportunity to be part of a market leading global company in front of green technology for ships, with strong growth. In an open and inspiring environment where your energy will make a difference. We provide great potential for personal and professional development.
Contact
For more information, please contact Josefine Petersson 0702-50 14 29 or Nicole Diener 0735-25 86 86 at Intenso Teknikrekrytering AB.
We welcome your application as soon as possible; selection is done continuously. Let's make the world a greener place!